Schedule of Classes, 2023-2024 Season
The Evanston School of Ballet Foundation
1933 Central Street
Evanston, Illinois 60201
(847) 475-9225, or if no answer, 475-3151
Welcome to the fifty-sixth season of the Evanston School of Ballet.
We hope that you and all your loved ones are well and we look forward to seeing you soon.

Sincerely, Kerry Hubata
The Philosophy
In dance, the body is the instrument. Since every human body is different, we believe it to be of the utmost importance that every student learn through understanding rather than solely by imitation. To this end, we strive to help each student become aware of his or her strengths and weaknesses in order to achieve the greatest potential and do so without injury. Classes, therefore, are carefully graded.
We also believe in the power of music to motivate and inspire the human spirit; therefore, we provide live accompaniment for all the classes.
The Teachers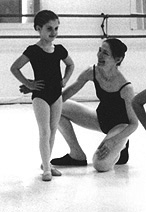 Kerry Hubata received her training from Phyllis Wills and earned her Cecchetti student and teacher certificates under her tutelage. She also studied at the Ellis-DuBoulay School, the University of Utah, the National Ballet School, Toronto, and with Vera Volkova at the Banff School of Fine Arts. She was a principal dancer with Evanston Concert Ballet and has done innovative work in liturgical dance. She is a member of the Cecchetti Council of America and has been teaching for 57 years, having co-founded The Evanston School of Ballet with Phyllis Wills in 1968.
Click here to read the interview with Kerry Hubata in Dance magazine.
photo: Carol Kyros Walker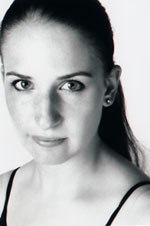 Meghann Mueller received both a BFA in Dance and a BA in History from Texas Christian University in Fort Worth, Texas. She began her early dance training at the Evanston School of Ballet under Kerry Hubata and Laura Wade. During summers, Meghann studied at the Joffrey Ballet and on scholarship at the Milwaukee Ballet. While at TCU, she had the opportunity to perform works by TCU faculty members, as well as several guest artists including Elizabeth Johnson, Dana Nicolay, and TCU Choreographer in Residence Fernando Bujones. In the spring of 2006, Meghann's work, Narrow Anguish, was performed at the American College Dance Festival in the adjudicated concert. In 2007, Meghann formed Project606 Dance with former classmate Maureen Caspers. The company has performed throughout Chicago including at the revered Hamlin Park Fieldhouse and at the Atheneum Theater as a part of Dance Chicago.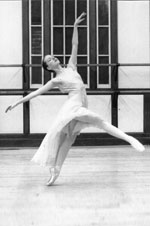 Elizabeth Turek began her ballet studies at the Evanston School of Ballet. She graduated from the National Ballet School of Canada in Toronto. During summers, she trained at The New York City Ballet School and the Joffrey Ballet School. Her favorite roles have been Clara in "The Nutcracker," and roles in "Giselle" and "Episodes" by Balanchine. She studied both dance and French literature at the university level. She is a certified teacher in both French and dance. Her first teaching experience was as a demonstrator for pre-ballet classes at the Evanston School of Ballet. In addition to teaching ballet, she teaches high school French.




Amanda Dye hails from Evanston, IL where she received formative dance training at the Evanston School of Ballet and ETHS. She then graduated with high honors from the University of Michigan - Ann Arbor, earning Bachelor's degrees in Dance and Humanities. Returning to Chicago, she became a founding member of Project 606 Dance before joining the Leopold Group 2011-2018. She had the privilege of being rigorously trained and mentored by Paul Sanasardo from 2008-2015, and performing in his Sleepless Nights in the City and Ancient Canyon. Along with other young dancers in Sanasardo's orbit, Amanda was a founding member of Dmitri Peskov Dance Theatre and Fôr Dance Company. Amanda is honored to begin teaching at ESB, where she learned so much.



About the School
The school is directed by Kerry Hubata and was founded in 1968 by Kerry Hubata and Phyllis Wills. It is dedicated entirely to education in classical ballet and includes work from pre-ballet through professional levels.
Students may expect to be offered a sound technical preparation for professional work. At the same time, the school offers classes designed to meet the interest of students who wish to study ballet for personal enrichment and fitness.
Richard Phillips, in the Chicago Tribune of March 23, 1984, reported that "from conversations with nearly two dozen dancers and dance professionals," Evanston School of Ballet was one of three ballet schools to "emerge with near-unanimous praise."
The highly qualified regular staff is augmented by distinguished guest teachers, who have included, alphabetically: Gwynne Ashton, Marijan Bayer, Nanci Crowley, Ann Hutchinson Guest, Penny Jay, Joan Kunsch, Enrique Martinez, Kay Mazzo, Kenneth Melville, Brunhilda Ruiz, Jurgen Schneider, Dame Kirsten Simone, Paul Sutherland, George Verdak, Maia Wilkins, Anne Woolliams and George Zoritch.
The Evanston School of Ballet is pleased to offer lecture demonstrations for schools and other groups.

Faculty:
Amanda Dye
Kerry Hubata
Meghann Mueller
Elizabeth Turek
Accompanists:
David Drazin
Wilson Hicken
Annie Liu

---
Schedule of Classes, 2023-2024 Season
Fall Term: September 11 through December 9; no classes November 19 through November 26 (Thanksgiving vacation)
Winter Term: December 11 through March 16; no classes December 17 through January 1 (Christmas vacation)
Spring Term: March 18 through June 15; no classes March 24 through March 31 (Easter vacation) and May 25, 26 and 27 (Memorial Day)
Summer Term: Special Summer classes (to be announced)
Adults and Teens
Beginning I: Monday 8:00, Wednesday 8:00
Beginning II: Tuesday 6:30, Thursday 6:30
Basic: Monday 6:45, Saturday 10:00
Intermediate: Tuesday 1:30, Wednesday 6:45, Friday 6:45

Children
Pre-Ballet (6 and 7 years old): Saturday 9:00
Beginning I: Wednesday 5:30, Friday 5:30
Beginning II/Basic: Tuesday 5:15, Thursday 5:15

Intermediate and advanced level students are encouraged to take lower level classes for strength and technique.

Tuition Per Term:
Each term includes twelve weeks of classes. Because class size is limited, registration is due before the first day of class, along with the signed waiver. If you download the application or waiver, please remember to mail or drop if off at the studio promptly.

Click here to download Waiver of Liability

Pre-Ballet 1 class per week, $225
All Other Levels
  2 classes per week, $450
  3 classes per week, $525
  4 classes per week, $600
---
COVID-19 Protocols:
The welfare and safety of our students and staff is of upmost importance. Though we continue to take extra precautions and to employ the protocols advised by the IDPH and implemented, you must know that there is a risk of contracting the virus whenever you enter a public space and that even such precautions do not eliminate all risk of infection. Please help us to keep everyone safe by complying with our requests:

MASKS - are optional at the discretion of the individual.
DISTANCE - make an effort to maintain a distance of 6 feet from other students.
ENTER - one at a time at 6-foot intervals immediately before class time and be under-dressed in order to change quickly in the studio room.
FRESHEN UP - with hand sanitizer before and after class.

One more thing: we need for you' (or your parent or guardian') to sign a waiver form stop by the school (or call if you need us to send you one) and return it with your registration.
Thank you.


---
-
---

School Regulations*
Promptness. Promptness is requisite at all levels; tardy students are not admitted to class.
No gum or jewelry allowed in class.
Girl's uniform. Black leotard, pink footed tights, pink shoes, hair neatly and securely arranged off neck. Advanced students may wear any solid color leotard with pink footed tights, pink shoes. Sweat pants or leg warmers may not to be worn in class.
Boy's Uniform. T-Shirt, black or gray tights, dance belt, white or black shoes. Sweat pants or leg warmers may not be worn.

When dance attire is worn to and from the school, outer clothing must also be worn.

Classes that are missed may be made up within the term.

*Any student not in compliance with these regulations may be excluded from class.

Public Transportation

Evanston bus #201 eastbound to Prairie Avenue, walk 1/2 block east.
Evanston elevated train to Central Street, transfer to westbound #201 bus to Green Bay Road, walk 1 1/2 block west.
Nortran bus to Green Bay Road and Central Street, walk 1 1/2 blocks west.
Metra (Northwestern) railroad to Central Street Evanston Station, walk 1 1/2 blocks west.