Schedule of Classes, 2018-2019 Season
The Evanston School of Ballet Foundation
1933 Central Street
Evanston, Illinois 60201
(847) 475-9225, or if no answer, 475-3151
50th Anniversary Year
Welcome to the 51st season of the Evanston School of Ballet. In an age marked by superficiality and lack of commitment, we are proud to observe this landmark anniversary of a school dedicated to quality ballet education.
When Phyllis Wills and I founded the school in 1968 the focus was not so much on longevity as on excellence - but perhaps the two are related. The school could not have survived or earned such a fine reputation if it were not good. For this, we are indebted to our teachers, the current faculty as well as former teachers and guest teachers through the years. Especially deserving of our thanks is Phyllis Wills whose high standards of teaching and personal warmth and understanding have helped anchor the school's reputation and serve as an example for the future.
To all our former students, we express gratitude: you have carried our name far and wide. To those presently enrolled we entrust our hope and devote our energies for, after all, you are the Evanston School of Ballet.

Sincerely,
Kerry Hubata
The Philosophy
In dance, the body is the instrument. Since every human body is different, we believe it to be of the utmost importance that every student learn through understanding rather than solely by imitation. To this end, we strive to help each student become aware of his or her strengths and weaknesses in order to achieve the greatest potential and do so without injury. Classes, therefore, are carefully graded.
We also believe in the power of music to motivate and inspire the human spirit; therefore, we provide live accompaniment for all the classes.
The Teachers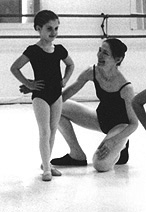 Kerry Hubata recieved her training from Phyllis Wills and earned her Cecchetti student and teacher certificates under her tutelage. She also studied at the Ellis-DuBoulay School, the University of Utah, the National Ballet School, Toronto, and with Vera Volkova at the Banff School of Fine Arts. She was a principal dancer with Evanston Concert Ballet and has done innovative work in liturgical dance. She is a member of the Cecchetti Council of America and has been teaching for 54 years, having co-founded The Evanston School of Ballet with Phyllis Wills in 1968.
Click here to read the interview with Kerry Hubata in Dance magazine.
photo: Carol Kyros Walker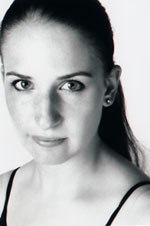 Meghann Mueller received both a BFA in Dance and a BA in History from Texas Christian University in Fort Worth, Texas. She began her early dance training at the Evanston School of Ballet under Kerry Hubata and Laura Wade. During summers, Meghann studied at the Joffrey Ballet and on scholarship at the Milwaukee Ballet. While at TCU, she had the opportunity to perform works by TCU faculty members, as well as several guest artists including Elizabeth Johnson, Dana Nicolay, and TCU Choreographer in Residence Fernando Bujones. In the spring of 2006, Meghann's work, Narrow Anguish, was performed at the American College Dance Festival in the adjudicated concert. In 2007, Meghann formed Project606 Dance with former classmate Maureen Caspers. The company has performed throughout Chicago including at the revered Hamlin Park Fieldhouse and at the Atheneum Theater as a part of Dance Chicago.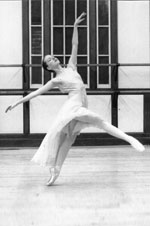 Elizabeth Turek began her ballet studies at the Evanston School of Ballet. She graduated from the National Ballet School of Canada in Toronto. During summers, she trained at The New York City Ballet School and the Joffrey Ballet School. Her favorite roles have been Clara in "The Nutcracker," and roles in "Giselle" and "Episodes" by Balanchine. She studied both dance and French literature at the university level. She is a certified teacher in both French and dance. Her first teaching experience was as a demonstrator for pre-ballet classes at the Evanston School of Ballet. In addition to teaching ballet, she teaches high school French.
About the School
The school is directed by Kerry Hubata and was founded in 1968 by Kerry Hubata and Phyllis Wills. It is dedicated entirely to education in classical ballet and includes work from pre-ballet through professional levels.
Students may expect to be offered a sound technical preparation for professional work. At the same time, the school offers classes designed to meet the interest of students who wish to study ballet for personal enrichment and fitness.
Richard Phillips, in the Chicago Tribune of March 23, 1984, reported that "from conversations with nearly two dozen dancers and dance professionals," Evanston School of Ballet was one of three ballet schools to "emerge with near-unanimous praise."
The highly qualified regular staff is augmented by distinguished guest teachers, who have included, alphabetically: Gwynne Ashton, Marijan Bayer, Nanci Crowley, Ann Hutchinson Guest, Penny Jay, Joan Kunsch, Enrique Martinez, Kay Mazzo, Kenneth Melville, Brunhilda Ruiz, Jurgen Schneider, Dame Kirsten Simone, Paul Sutherland, George Verdak, Maia Wilkins, Anne Woolliams and George Zoritch.
The Evanston School of Ballet is pleased to offer lecture demonstrations for schools and other groups.

Faculty:
Kerry Hubata
Meghann Mueller
Elizabeth Turek
Accompanists:
David Drazin
Anya Rumbold
Peter Rumbold
Fran Walker
---
Schedule of Classes, 2018-2019 Season
Fall Term: September 10 through December 10; no classes November 18 through November 25 (Thanksgiving vacation)
Winter Term: December 10 through March 16; no classes December 23 through January 6 (Christmas vacation)
Spring Term: March 18 through June 15; no classes April 14 through April 21 (Easter vacation) and May 25, 26, and 27 (Memorial Day)
Summer Term: Special Summer classes to be announced
Adults and Teens
Beginning I: Monday 8:00, Wednesday 8:00
Beginning II: Tuesday 6:30, Thursday 6:30
Basic: Monday 6:45, Saturday 10:00
*Intermediate: Tuesday 1:30, Wednesday 6:45, Friday 6:45
Pointe: Wednesday 5:45. Faculty permission required.

Children
Pre-Ballet (6 and 7 years old): Saturday 9:00
Beginning I: Tuesday 5:30, Thursday 5:30
Basic: Monday 5:30, Friday 5:30

*Classes in the Intermediate and higher levels are at least 1 1/4 hours and may include pointe work.
Intermediate and advanced level students are encouraged to take lower level classes for strength and technique.

Tuition Per Term: Each term includes twelve weeks of classes, exclusive of vacation days.
Tuition is due on or before the first day of class.
Pre-Ballet 1 class per week, $200
All Other Levels
  2 classes per week, $400
  3 classes per week, $475
  4 classes per week, $550
---
Summer Schedule 2019 - June 24 through July 25*


*No classes Thursday, July 4

Junior Division

Basic/Intermediate
Monday and Thursday 5:15pm, Tuition - 5 weeks $180 / per week $40

Senior Division

Beginning II
Tuesday and Thursday 6:30pm, Tuition - 5 weeks $180 / per week $40

Basic
Monday and Wednesday 6:30pm, Tuition - 5 weeks $180 / per week $40

Intermediate/Advanced
Monday through Thursday 7:45p, Tuition - 5 weeks $360 / per week $80

Fee for an individual class is $20
---

School Regulations*
Promptness. Promptness is requisite at all levels; tardy students are not admitted to class.
No gum or jewelry allowed in class.
Girl's uniform. Black leotard, pink footed tights, pink shoes, hair neatly and securely arranged off neck. Advanced students may wear any solid color leotard with pink footed tights, pink shoes. Sweat pants or leg warmers may not to be worn in class.
Boy's Uniform. T-Shirt, black or gray tights, dance belt, white or black shoes. Sweat pants or leg warmers may not be worn.

When dance attire is worn to and from the school, outer clothing must also be worn.

Classes that are missed may be made up within the term.

*Any student not in compliance with these regulations may be excluded from class.

Public Transportation

Evanston bus #201 eastbound to Prairie Avenue, walk 1/2 block east.
Evanston elevated train to Central Street, transfer to westbound #201 bus to Green Bay Road, walk 1 1/2 block west.
Nortran bus to Green Bay Road and Central Street, walk 1 1/2 blocks west.
Metra (Northwestern) railroad to Central Street Evanston Station, walk 1 1/2 blocks west.